Monitor
CUI

data

Safeguard your Controlled Unclassified Information (CUI) data and maintain IT compliance.
Why should I monitor CUI?
Monitoring and tracking Controlled Unclassified Information (CUI) data is critical for protecting sensitive information and ensuring compliance with regulatory requirements.
EventSentry, an on-premise Security Information and Event Management (SIEM) system can provide an effective solution for monitoring and tracking CUI data. By using EventSentry, organizations can gain real-time visibility into potential security threats and data breaches, helping them quickly detect and respond to incidents.
With EventSentry organizations can also automate compliance efforts and reduce manual efforts, saving time and resources. Additionally, EventSentry can provide comprehensive reporting and analysis capabilities, enabling organizations to identify trends and patterns in CUI data use and make informed decisions about security policies and procedures.
Ultimately, investing in an on-premise SIEM for monitoring and tracking CUI data can help organizations maintain a strong security posture and protect their sensitive information from potential threats.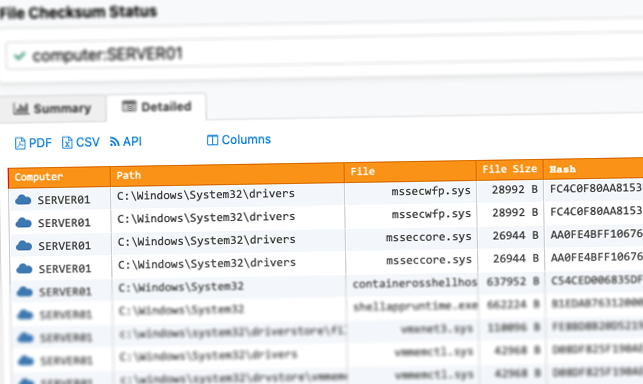 EventSentry Features
Log Monitoring
Real-time event log monitoring and remediation.
Validation Scripts
Evaluate security settings across your Windows servers.
Dashboards
Help you keep an eye on key performance indicators.
Compliance
Built-in dashboards with detailed reporting.
Real-time Alerts
Immediately trigger alerts and corrective actions.
Active Directory
Search object changes down to the attribute level.
Performance
Quickly spot unusual activity on your network.
Change Detection
Identify unexpected changes the moment they occur.
Deploy quickly, monitor in real-time
Keep your data secure
On-premise or Bring Your Own Cloud (BYOC)
Lightweight
Setup in minutes
Built-in rules
Cost effective
Easy to use
Friendly support
Package Management
Easy Deployment
Built-in Compliance
We predefine compliance rules and dashboards.
Automated updates
Keep your agents up to date with the latest configuration.
Streamlined communication
Triggered actions are compressed and encrypted.
Getting started with EventSentry is easy
Start an evaluation

FREE fully functional for 30-days

Install EventSentry

Quick installation / Monitor in minutes

Centralize audit logs

Built-in dashboards / reports
Powerful and flexible SIEM solution
Whether you are meeting a compliance requirement or simply being proactive, EventSentry's unmatched functionality will bring visibility into your IT infrastructure and increase uptime.
365
days
FREE support and updates with new licenses
154
+
Validation Scripts for latest security recommendations
273
+
software version checks