About Us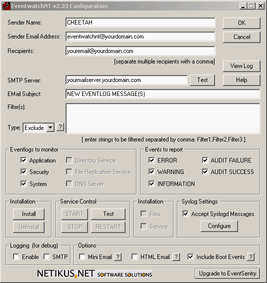 EventSentry was originally named "EventwatchNT", a free event log monitoring application first released in the spring of 2001. Even though EventwatchNT was only developed on weekends and evenings it was well received by System Administrators who were finally able to monitor their event logs for free! At that time, and still today, no other freeware event log monitoring application, except for EventSentry Light, exist on the market. While EventwatchNT was very simple, it did offer enough features for most small networks and was quite reliable and stable.
EventwatchNT was developed for another 18 months after its initial release and was eventually "retired" at version 2.33 in November 2002. In its place followed EventSentry, an improved version of EventwatchNT that offered many new features for both small and enterprise businesses, now officially developed by NETIKUS.NET ltd . To honor small businesses and individuals we release a free version of EventSentry with limited features, called "EventSentry Light".
Ever since its initial release in December 2002, the features and customers of EventSentry (and EventwatchNT) have been growing quickly; EventSentry has moved well beyond event log monitoring and is now a complete system monitoring suite. Our clients include end-users, consultants, small businesses, government & military institutions, universities and large Fortune 500 companies alike (see our clients for testimonials and clients
Today EventSentry and EventSentry Light are already monitoring tens of thousands of servers and workstations across the globe, all backed by fast and reliable support which is constantly praised by our customers.
We encourage you to browse the eventsentry.com web site to find out what our event log and system monitoring solutions can do to run your network more efficiently.