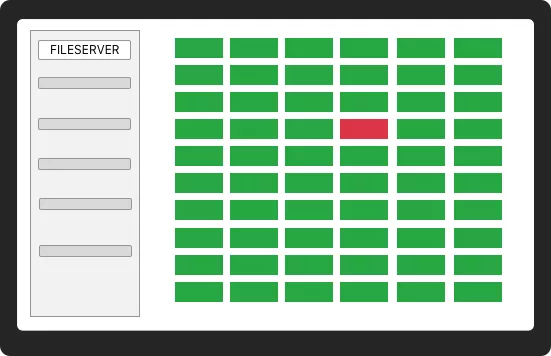 On-premise SIEM

Control your IT Security
EventSentry provides the ability to detect and respond to potential threats in real-time, ensuring the protection of valuable data and maintaining IT compliance.
Features
Log Monitoring
Real-time event log monitoring and remediation.
Validation Scripts
Evaluate security settings across your Windows servers.
Dashboards
Help you keep an eye on key performance indicators.
Compliance
Built-in dashboards with detailed reporting.
Real-time Alerts
Immediately trigger alerts and corrective actions.
Active Directory
Search object changes down to the attribute level.
Performance
Quickly spot unusual activity on your network.
Change Detection
Identify unexpected changes the moment they occur.
Deploy quickly, monitor in real-time
Keep your data
Air gapped or connected networks
Lightweight
Setup in minutes
Built-in rules
Cost effective
Easy to use
Friendly support
What is SIEM?
On-premise SIEM (Security Information and Event Management) monitoring offers unparalleled control and customization for your organization's security needs. With the ability to monitor and analyze log data in real-time, you can quickly detect and respond to potential security threats, ensuring the safety of your valuable data.
The benefits of on-premise SIEM monitoring are numerous, including increased security, improved troubleshooting and cost savings, better performance, and compliance with regulatory requirements.
In addition, on-premise SIEM monitoring provides valuable insights into user behavior and system usage patterns, allowing you to make informed business decisions. With on-premise SIEM monitoring, your organization can take control of its security and proactively protect against the latest threats.
Predictability
No surprise costs
No Subscription
You own the current version with one free year of maintenance.
No Data Limit
Collect as much data as required with no unexpected bills.
No Sensor Limit
Once the system is licensed, monitor all security / health metrics.
Getting started with EventSentry is easy
Start an evaluation

FREE fully functional for 30-days

Install EventSentry

Quick installation / Monitor in minutes

Centralize audit logs

Built-in dashboards / reports
Powerful and flexible SIEM solution
Whether you are meeting a compliance requirement or simply being proactive, EventSentry's unmatched functionality will bring visibility into your IT infrastructure and increase uptime.
365
days
FREE support and updates with new licenses
154
+
Validation Scripts for latest security recommendations
273
+
software version checks