You can hide packages that you are not interested in, for example if you use EventSentry to solely monitor servers then you can hide the Laptops package. Hidden packages are still active and processed, but will not be shown in the management console. This feature is particularly useful when you download packages from the web.
Hiding vs. Deleting
If you delete a previously downloaded package from your configuration, then you will be prompted to import this package again the next time you download packages from the web. If you hide the package however then you will not be prompted to import the package in the future (unless it has been updated) since the package is technically still installed.
Hiding a Package
To hide a package, right-click the package container and select Hide. The package will immediately disappear from the list. The package will continue to be assigned unless you unassign it.
Unhiding one or more Packages
To unhide one more more packages, right-click the Packages container and select Unhide Packages which will display the following dialog: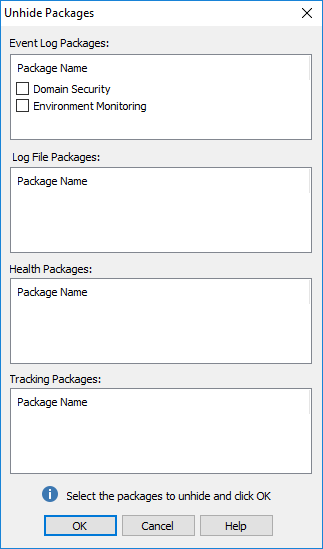 Select the package(s) to unhide and click OK. The packages will now reappear in the tree.