Sysmon is a free driver-based utility that supplements Windows's built-in audit capabilities. Combining Sysmon with EventSentry's monitoring capabilities enables users to detect a number of potential threats on their monitored servers and workstations. The required Sysmon configuration file is attached below.
This article includes a pre-made Event Log Filter package with the required filters for detecting suspicious activity on Windows Print Spooler to alert of a possible Remote Code Execution Vulnerability (known as PrintNightmare, CVE-2021-1675).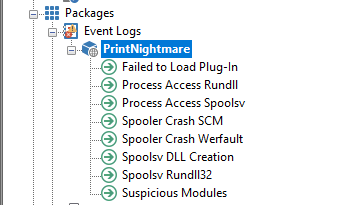 To start using PrintNightmare filter rules, follow the steps below:
Deploy Sysmon to all systems that are utilizing these rules. See KB 437 on how to automatically deploy (and/or configure) Sysmon with EventSentry (required Sysmon configuration file is attached below and available on GitHub).
Download the .reg package below or from GitHub.
Import the package in the management console. Click on "Packages", select "Import" and select the previously downloaded package.
Select the package "PrintNightmare" from the list.
Review the package properties (select package, click Properties) and make sure that the correct action is referenced.
From the ribbon, click "Home" and then "Save" (or "Save & Deploy") to save the configuration.
Event Log Package for PrintNightmare

PrintNightmare-ES-Package.reg
Sysmon configuration file

sysmon-printnightmare.xml