We're excited to announce EventSentry Mobile v1.3 for the iOS platform. The new version remains free, is optimized for iOS 7, sports a refreshed interface and also includes a brand-new feature for pinging hosts in real-time.
Since the new version of EventSentry Mobile was optimized for the new web reports in EventSentry v3.0, it will not work if you are running EventSentry v2.93 on your network.
The interface of the app remains largely the same, but integrates more seamlessly with the iOS 7 flat look. Icons on the network status dialog are now only shown when a host is at least in a warning state, and the icons on the heartbeat dialog have been changed to new flat icons.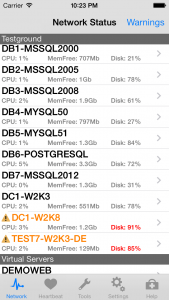 Viewing computer details has been tweaked for hosts which are monitored via SNMP since there is currently less information available when compared with Windows hosts monitored by the EventSentry agent.
But since we didn't feel that visual and internal changes were enough, we also added a new "Tools" section to the app which can:
Ping a host

Perform a DNS lookup
Provide GEO lookup data (when available)
The tools dialog has a single input field with one button where you can enter either an IP address or host name. After you enter the host name or IP address and click the target button, the web reports will ping the host, perform a DNS (reverse) lookup and try to obtain GEO information.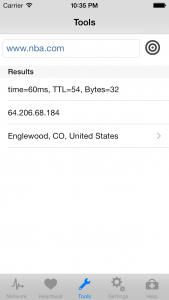 The ping and DNS lookup are performed from the web reports rather than from the phone directly, GEO data is pulled by the iOS device from http://freegeoip.net/. If the IP address is not private (e.g. 192.168.1.x) and coordinates are available then the location can be viewed on a map directly on the iOS device as shown below.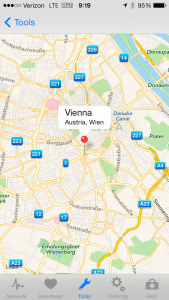 Reminder: If you are using EventSentry v2.93, iOS 7 and have automatic updates enabled on your iOS device, then EventSentry Mobile will stop working.
If you have an iPhone or iPad and haven't already installed EventSentry Mobile then simply search for "EventSentry" in the App store or click here. Enjoy!